After a couple of far-too-quiet years on the breeding front, I am now very excited about moving forward with Taraco Stud. In particular, it is wonderful to have seen the first mares scanned in foal for 2020 and to be looking forward to some lovely foals. As always, I have been very lucky to use some absolutely fantastic stallions in 2019 and, with the stallion owners' permission, I will be revealing full details in due course. I think it is fair to say that you can expect to see some welsh cob foals of the calibre, quality and type that you have come to expect from Taraco Stud with some added excitement.

This year will see the first welsh sports foals for over 15 years, with two stunning welsh cobs scanned in foal to the beautiful Oldenburg stallion Santo Hit (a son of World Dressage Champion Sandro Hit). These foals are already generating alot of interest, and will be awaited with great anticipation. In my opinion, Oldenburg and Welsh are a match made in heaven, with both demonstrating exceptional length of rein, movement, power and class. Welsh Cobs are acclaimed as the best ride and drive in the World, and are athletic performance horses in their own right. I aim to combine the character, versatility, endurance and temperament of the welsh breeds with the height, balance, flexibility and tractability of the Oldenburg. The Dressage World Champion Sandro Hit has shaped modern dressage breeding, producing beautiful uphill types with light-footed, elegant movement and an enchanting charisma and I have carefully selected a performance tested and licenced son of his to bring the very best to my breeding as always. Please contact me if you would like to be added to the waiting list.

I am also very excited about the those expecting foals by my stallions - this includes a significant number of stunning welsh cob mares in Wales, England, Ireland by Trevallion Enzo who was available at public stud (nature cover) for the first time in 2019. With an exceptional fertility rate, I am pleased to say that he got 100% of his welsh cob mares in foal and has been privileged to serve some exceptional broodmares. Taraco Firecracker is also expecting his first UK foals by frozen AI in 2020, demonstrating execellent quality post thaw motility and fertility with frozen AI.

A very small selection of foals and youngstock may be offered for sale and expressions of interest are invited.
WELSH SPORTS HORSE
KIRON BLACK LADY x SANTO HIT (WB)
Welsh Sports foal
Lady is a lady by name, and a lady by nature. She is a delightful addition to the stud, specifically chosen for her conformation, movement and trainability. She has been scanned in foal to the Oldenburg dressage champion Santo Hit and is guaranteed a black welsh sports foal in 2020.
Due June 2020 (SCANNED)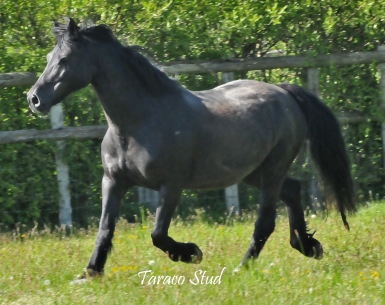 FOALS BY THE BOYS
With exciting arrivals in Australia and Italy in 2019, I am looking forward to the 2020 foals by Trevallion Enzo and Taraco Firecracker, which will include those both home and overseas. Watch this page for news of their arrival!
Taraco Stud, Canterbury, Kent
A small stud specialising in breeding quality palomino and buckskin welsh ponies and cobs